Passion Fruit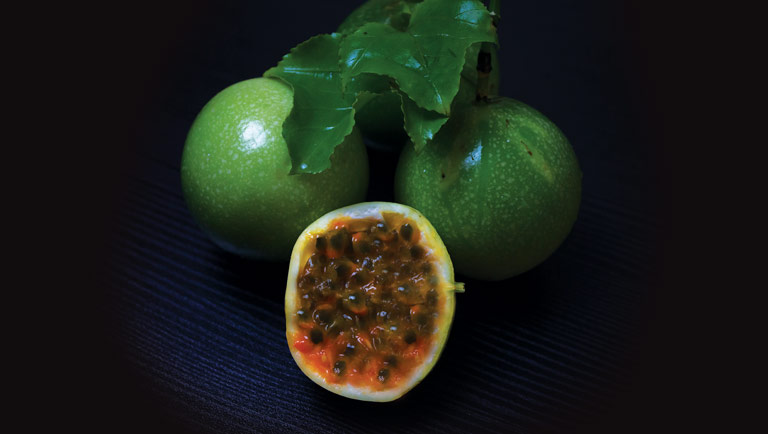 Passion fruit is ideal for cultivation under the climatic conditions existing in Kerala. It is a creeper with shallow running roots. Basically two varieties are cultivated in Kerala-the purple one and the light yellow one. On top of that there is the high yielding variety developed by Kerala agricultural university . They can be grown by planting seeds or stem cuts. Since they are not attacked by pests much, there is no need for using pesticides.
Cultivation methods
The roots don't grow deeper, instead they grow sideways. If there are only two or more plants, they can climb on trees or fence. Since they live from 6 to 7 years, having a firm pergola is important when growing them commercially.
The land for cultivation has to be dug deep and levelled. Make holes 2 feet big and 1 feet deep. Take either cow dung powder, goat or chicken manure, and mix with it neem oil cake, bone powder, and lime in small amounts and fill the hole. Plant the sapling 10x6 feet apart.
If they are planted during monsoon, irrigation can be avoided. Passion fruit flowers usually in February. Harvesting starts from June. If they are taken care well, they can be harvested for 6 to 7 months. Once the vines start climbing on the pergola, empty a solution of organic manure mixed in water or 'jeevamruthum' onto the roots. Since the roots grow sideways, do not dug up the bed. Ph level of the soil also has to be aligned. When they are cultivated on commercial purpose, spraying pseudomonas on leaves monthly is compulsory.This will save the plant from pests. They give yield continuously for a month and a single plant give yield from 10 to 15 kgs.
Medicinal and nutritional benefits
Vitamic A,C, beta carotene, potassium, calcium, magnesium and fibre are found in passion fruit in high levels. Its seeds contain high amount of antioxidants that prevents cancer and diabetes. Ayurvedic system says eating a passion fruit a day can help relieve mental stress.
Tangy yellow pulped fruits are best to make squash. Cut open a fruit and remove the pulp. Remove seeds from the pulp. Add 1.25 kgs of cooled sugar solution in 1kg of pulp. For household consumption, bottle it up and refrigerate. It will stay fresh for up to 6 months. When made for commercial purposes, add 2gms of potassium bisulphate to increase its life. This is a good health drink.
Passion fruit is consumed globally. It originated from Brazil. It is difficult to raise this healthy fruit with low expense. People can grow them within the confines of their land as much as possible. Government and Agriculture dept should take initiative to conduct training and awareness programmes in this regards.