Clove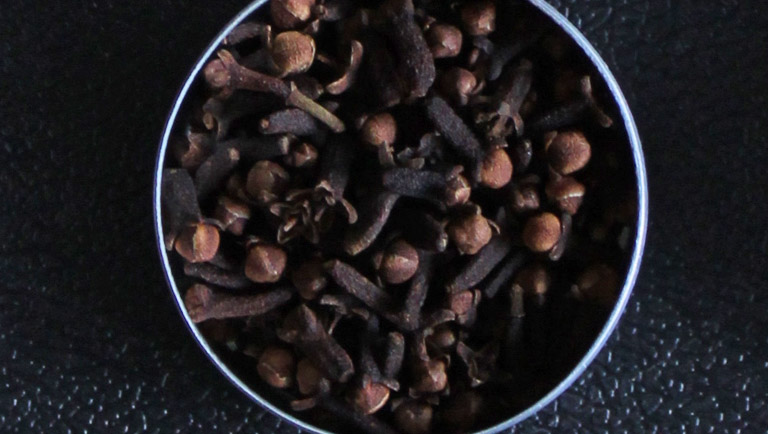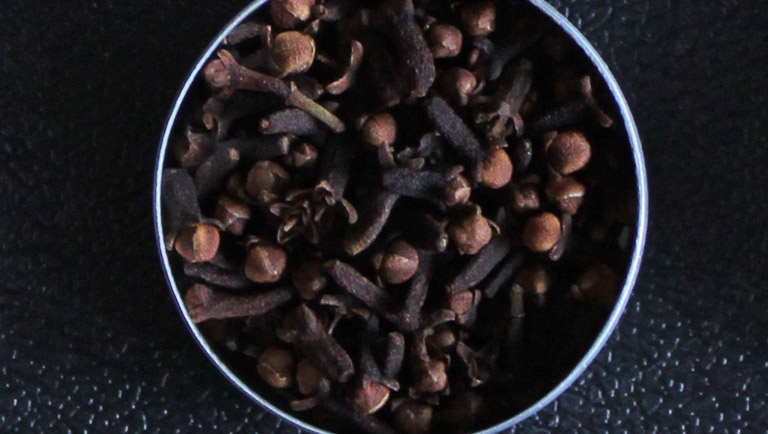 It is believed that cloves were introduced to India by the English East India Company from the Indonesian island of Maluku. There are mainly 3 varieties of cloves namely, Benam, Zanzibar and Madagascar. Clove cultivation in India is mainly concentrated in Kerala and Southern Tamil Nadu. Apart from India, Sri Lanka, Indonesia, and Madagascar are also clove cultivating countries.
Farming Method
The seeds must be gathered from old and highly productive trees. The collected seeds must be skinned, sowed and grown in the bed prepared. The saplings thus grown must be transferred to plastic bags readied in advance, after 15 days. The contents of the plastic bag include powdered cow dung, bone powder, Neem cake organic manure and top soil. The seeds and saplings require shade when sowed and also when transferred to plastic bags. The saplings in these plastic bags must be fertilized with organic fertilizers for a year. Usually one year old saplings are moved to the grove. The sapling needs a hole with the area of 1sq metre. The hole needs a mixture of powdered cow dung, bone powder,Neem cake organic manure, bio fertilizers and top soil. Waterlogging must be prevented once the sapling has been planted. The best time for planting is the beginning of the monsoon season. Since cloves need shade, they can be grown in palm groves. Use organic fertilizers atleast twice ayear during monsoon season.Bordeaux mixture has to be used to keep away fungus while the saplings are in plastic bags and groves. Mulching too is necessary. Irrigation is inevitable during dry season.
Processing
Cloves start to bloom in 4 to 5 years' time. They leaf during the months of October and November. Once the leaves are fully grown, the edges of the branches start budding. There will be 20 to 30 buds in a bunch and it can be plucked once a joint has flowered. Letting all the buds bloom will spoil the quality of the cloves.
The harvest happens once in a year, and it is a difficult job, especially if the skilled workforce are unavailable. This could result in loss. The plucked flowers are filled in a sack and laid out on the floor. The pedicel and leaves are removed from the bunch, and they yield a small price too. The selected cloves are spread out on the floor for 3 days to dry. The ideal colour is mild red. Under dried cloves lose grades while the over dried ones lose the oil content. The dried cloves are packed in sacks of 50kgs for sale in the market.
Dietary Use
Adding cloves to food increases appetite. It increases the production of digestive fluids and facilitates digestion faster. Clove is part and parcel for all meat dishes, as it imparts flavour and aroma. Curries smell great when clove leaves are added. Hence clove enjoys an undeniable position among spices in the daily lives of Keralites. They can be home grown easily.
Medicinal Values
Clove has antibacterial properties. 90% of the essential oil derived from clove is eugenol. Eugenol contains Methyl salicylate, a pain killer, and this explains why cloves are advised for toothache. Clove oil provides relief for various ailments like gas trouble, gum inflammation, intestinal complaints, and indigestion. A clove a day will do away with constipation. Clove essence is good for bacterial infection on skin. Clove is an inevitable ingredient for many Ayurvedic medicines. No other spice is as useful as clove in treating digestive systems and lungs. A concoction of half a gram of clove powder with honey twice a day can cure, cough and fever. Nebulizing with clove oil offers relief from throat ache, cold, flu and chest infection. Many tooth paste producers have added cloves to their products. Bud, leaf, skin, and root of clove plant have medicinal values.